Staying connected by maintaining meaningful relationships and acquiring information that supports daily activities are leading determinants of quality-of-life and health for older adults. Common online communication channels are often too complicated for some users, especially those who have not used computer technology before. FamliNet is a Canadian startup company aiming to provide powerful tools that are easy to use and a secure messaging platform that prevents unsolicited messages.
I completely redesigned FamliNet's branding and marketing materials for clarity and consistency.
I completely redesigned and implemented FamliNet's product website, later integrating analytics and SEO (Search Engine Optimization) and performed user testing, which increased sales.
I began with iterations of skeletons, wireframes and mockups for each page.
View the live site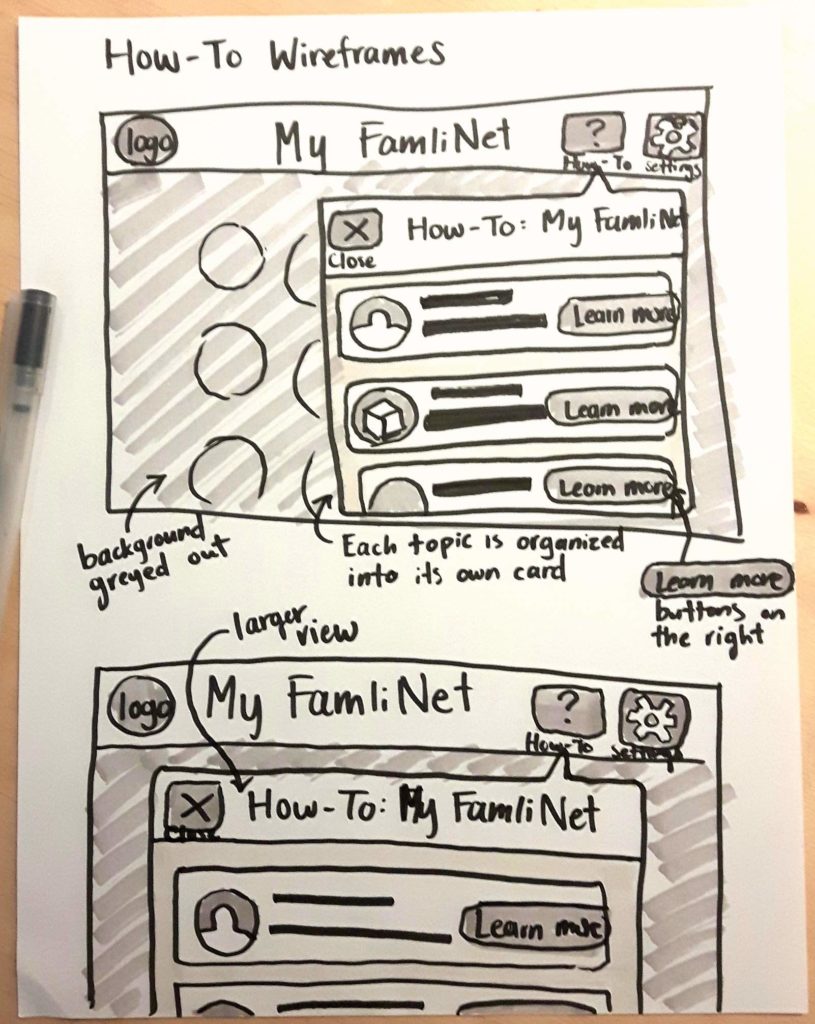 Over a period of two years, I collected observations and users' responses to the app, and wireframed solutions.
Accessibility
Photos in messages and My Media:

Starts off too small to see well
Once expanded, they scale inconsistently, and some photos require much scrolling to see the whole photo.

Medium blue colour is difficult to read on a grey background. This colour could only be used for links on white message backgrounds instead, and not be displayed on other backgrounds
Message text should start larger to begin with
Text size on some pages may be too small, and cannot be increased (Games, Movies, Music, News, Senior Safety, etc.)
Some buttons too small to see and tap
"New Message" flag: Why not a mail icon? These words can be hard to see and need to be translated
Organization, Information Architecture
What do my contacts' circle colours mean?
(from Sunnybrook observations) The circle bubbles in the My Connections screen are 'clickable'. After pressing a bubble and entering a Conversation with a person, their 'profile picture' is visible at the top. This preview image is the same as the 'clickable' circle bubbles but smaller. It is often confused for being 'clickable'.
Services are not separated from contacts in any way to distinguish them
Why are form field names on the left side of each box, instead of using the industry standard, which places field names on the top of each box?
"Settings" button can only change the text size. Is there a reason why it does not say "Text Size" instead?
Sub-choices in message types:

There is no arrow to point at which icon the sub-choices are referring to (see iOS app for reference, which does use arrows to help)
User Flow
Why does it take 2 clicks to reach the Support page?
Tab navigation can be very confusing, and by extension, system groups that function through use of links and new tabs
Creating a new account:

User is exposed to many different fields in the form. Can be intimidating to see so many, could stop users from wanting to sign up
Lots of text to read

Sending a link takes many steps. Why must a user wait so long while the link is being checked, and then only once the very small preview loads, tap "Send" after that?
Not obvious that user must tap the "Save" button after "Edit My Profile". Button is also very small and can be easily obscured
Video playback:

Not consistent with the industry standard UX of playing a video back
Timeline does not sync with the video playback properly
Empty States
For example, "You cannot record an audio message because Connections doesn't have permission to use the microphone." What should I do now?
Visuals
Buttons are different sizes and colours
Webapp very inconsistent with branding colours
Icons

Look very inconsistent, and some are too cluttered to see and understand clearly on small screens.
Border around them makes them feel more busy and cluttered

No FamliNet logo on the main "My Connections" page?
Page titles are not centered properly
Items in Services (such as Games) not centered properly
Shadows and gradients:

Inconsistent shadows and gradients
Gradients on message boxes use an outdated style
Issues with perceived elevation of elements (Why do buttons look flatter than message boxes?)

Form fields:

Default background colour for form fields is blue which is not industry standard, especially when the rest of the field looks similar to many forms
Having many form background colours can be confusing to users